The New 2022 Honda HR-V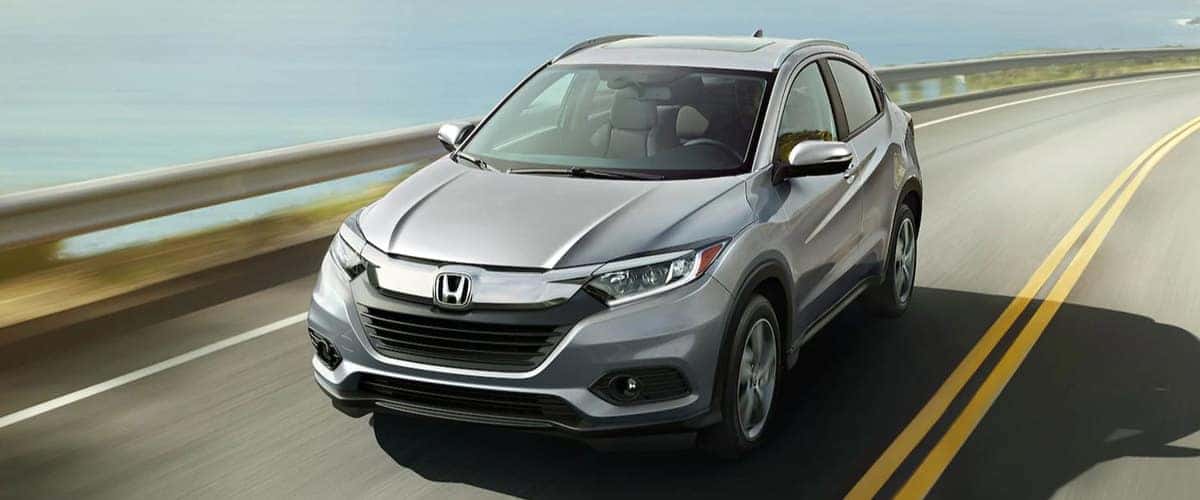 The New 2022 Honda HR-V comes feature-packed with state-of-the-art tech, outstanding performance, and Honda's 60/40 Magic Seat®. Let's dive into what makes this year's model special and why you should consider it for your next SUV purchase.
The Standard Features
Here we will go over the standard and optional features available for every 2022 HR-V. First, there's optional all-wheel drive (AWD) across the board. Regardless of trim level, AWD is available for the HR-V. Next, there's fuel efficiency. The front wheel drive models (FWD) offer an expert 28 miles per gallon in the city, 34mpg highway, for an average of 30mpg across the board. All-wheel options are right behind, dipping slightly to 26 mpg city, 31 mpg highway, and averaging around 28-29 mpg, depending on your trim level.
Then there's the Magic Seat®. A pride of interior engineering, this seat offers unparalleled flexibility in cargo storage options. All rear seats flip downwards, offering a generous cargo storage space of over 55 cubic feet with a max of nearly 80 cubic feet. Have something that's too tall? These same seats flip upwards, allowing for extra tall items to fit perfectly. Of course, for those just wondering if they can fit themselves and the kiddos in, this is a five-seater across the board. Best of all? All those things above are standard, across the board, on all trim levels.
Four Trims to Choose From
This year's HR-V comes with four levels of trim: LX, Sport, EX, and EX-L. Across all four levels of trim are the standard features, as mentioned above.
LX
The LX is the standard trim. Included is a 5-inch infotainment touchscreen, one USB port, and Bluetooth audio. You'll receive a stellar ride that is AWD compatible, equipped with the Magic Seat®, and essential smart-tech. Speaking of AWD, the LX trim comes with an additional point of average fuel-efficiency over the higher trims with AWD. Also available is the 18-inch machine-finished alloy wheels, an upgrade over the default 17-inch option. With the expansive cargo space and great fuel efficiency, this is an awesome trim for those hoping for a car with maximum value.
Standout Features:
Better fuel efficiency with AWD: AWD model has higher fuel efficiency than AWD Sport, EX, and EX-L Trims.
Essential Tech: Bluetooth, USB charging, power windows, and more.
Sport
The Sport trim is where Honda starts stepping it up. First, that 5-in infotainment screen gets boosted to a 7-in screen. The size makes it easier to interact and gain crucial driving information at a moment's notice. Next, as the name indicates, this is a vehicle meant for those on the go. Included are fog lights, 18-inch alloy wheels, and roof rails to pack even more gear aboard. Add to that the sport-designed pedals and you've got a great ride on or off-road.
A favorite feature of the Sport is the paddle shifters. Imagine down-shifting, but without your hands leaving the wheel. If you frequent the hills and mountains, this is essential for saving your breaks. And for those that love their tech, included are Apple CarPlay and Android Auto. These allow you to connect your device and have your maps, music, and calls all feed through the car's system and display on that glorious 7-in display. And there's an extra USB port, so you can use your maps and allow your partner to charge their device while you're on the go.
Standout Features:
Maps, Music, More!: Apple CarPlay and Android Auto equipped.
Ride in Style: 18-inch alloy wheels look sharp and keep you trekking on all terrains longer.
Unique Option: Sport-designed pedals that offer increased traction and a race-car-like feel.
EX
The EX trim is the most popular trim level and includes a bevy of new and useful features. Proximity keyless ignition makes for simple car starting. A beautiful moonroof allows for glorious views daytime or night. And how could we forget the heated seats, for those chilly winter nights? And Honda Sensing, the team's impressive suite of safety tools, comes equipped on EX and EX-L models.
Included is Honda LaneWatch, giving you camera visibility from your right mirror while switching lanes or turning right. This is a helpful feature for those living in busy neighborhoods, or for those frequenting streets with bikers.
Next, there's adaptive cruise control. Using infrared (IR) sensors, the HR-V detects when it's approaching another vehicle and automatically adjusts speed while using cruise. These IR sensors also grant enhanced forward collision mitigation technology. It senses when you're approaching a target too fast and breaks if a collision is imminent.
Standout Features:
Safe and Secure: Honda Sensing comes with a suite of tools designed to keep you and all passengers safe.
Simple Starting: Keyless ignition makes starting your car safer and more reliable.
Glorious Views: The moonroof offers views of the stars as you car-camp, or adds some light during the morning drive back.
EX-L
Need a bit more luxury in your vehicle? Included with the EX-L is an upgraded audio system with six speakers throughout the cabin. Perfect for enjoying whatever your favorite music may be. Also included is satellite radio. Also included are leather-trimmed seats, as well as a leather-trimmed shift knob and steering wheel. The final touch: a self-dimming rearview mirror. Drive off into (or, in this case, away from) the sunset without being blinded.
Standout Features:
Luxury Leather: Leather trim on the seats, steering wheel, and shift knob for a classy driving experience.
Honda Sense: Adding smart-safety features to prevent accidents.
Vision Enhanced: The self-dimming rearview mirror prevents unnecessary glare while driving.
The New 2022 Honda HR-V at Patriot Honda
The New 2022 Honda HR-V wraps style, function, and versatility into a tidy package. With standard safety features and all-wheel drive available on every trim level, you can pick what's best for you.
If you're interested in seeing this innovative SUV for yourself or have already decided to buy it by getting prequalified, come down to Patriot Honda and we get you set up for a test drive. If you have any questions, be sure to contact us by filling out our contact form or use our online chat feature and we will get back to you as soon as possible.
We appreciate your interest in our inventory, and apologize we do not have model details displaying on the website at this time. Please fill the form out below and our team will quickly respond, or, please call us at 580-227-8743 for more information.